Friday 30th September - Mayoral Visit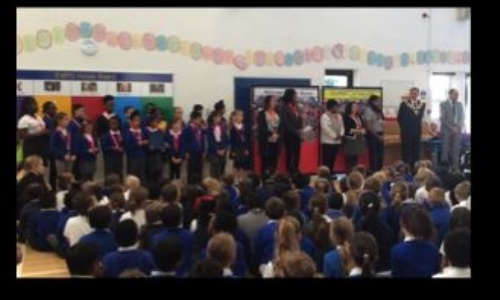 We were pleased to welcome Newham's mayor Sir Robin Wales and Cllr Mas Patel to our assembly today.
They came to acknowledge and celebrate the school's contribution to the Newham carnival earlier this year. Each child involved received a medal and the school has received a commemorative silver plate which is now on display in main reception. Particular thanks go to the staff that supported with the rehearsals, helping children make costumes and instruments and attended on the day.
Pupils: Melissa, Lesley ,Kayaan, Olamma, Kim, Julie, Dave, Gabriela, Katherine, Zara, Amanda, Dorinda, Aurel, Fahima, Arnas, Keops, Sukhman, Sehajpal, Matthew, Isra, Anjola and Emelija
Staff: Mrs Higgins, Mrs Sreedharan, Mrs Mustafa, Mrs Johnson and Mrs Cojocariu