PE and Healthy Schools
PAGE UNDER CONSTRUCTION
Our Vision:
How we teach PE:
How we ensure access for all:
How we develop cultural capital:
How we know your child is succeeding:
How you can support your child:
PE at EWPS
At Ellen Wilkinson we see physical education as an important and valuable area within the curriculum. Pupils are encouraged to develop and maintain a healthy lifestyle which is reinforced during their weekly lessons. We strive to support all pupils in developing their skills in various sports. Pupils of all abilities are entered into borough competitions throughout the year, which give them the opportunities to apply the skills and develop a sense of sportsmanship.
We have been awarded the School Games Gold Mark for the third year running in recognition of the work we do in Physical Education at Ellen Wilkinson Primary School.
How we teach PE
A minimum of two hours of physical activity is built into the curriculum each week. Pupils experience a range of sporting activities in their PE lessons taught by our own class teachers or our specialist coaches from Kick London. Each unit is designed to support pupils in building on previous skills and widening their experience of a range of different sports. This year we have been able to add Street Dance and Gymnastics to our curriculum, taught by specialist coaches. In year 4, children attend swimming lessons at Newham Leisure Centre, with a good proportion of the children being able to swim the statutory 25 metres by the end of the year. In addition, all children have the opportunity to attend after school clubs, which currently include:
basketball
street dance
multi-sports
gymnastics
cycling
badminton
rounders
athletics
tennis
running
gymnastics
football
Tai Chi
Health & fitness
Furthermore, children have the opportunity to develop their skills in their preferred sports and allow them to be active during lunchtime with a wide range of activities set up for them.
How we know your child is succeeding
At each stage of your child's education we assess their skills against the expected levels in each area of PE. The PE coaches and class teachers use assessments from each lesson to plan the following lessons and support the children who may need more practise. Children who are achieving highly in sport will be identified for selection to external coaching such as Newham Athletics and Chelsea football trials.
Curriculum map and key documents
If you would like to find out more information please contact:
Rebekah St. Hilaire-Dinh
PE and Healthy Schools Leader
PE News 2018-19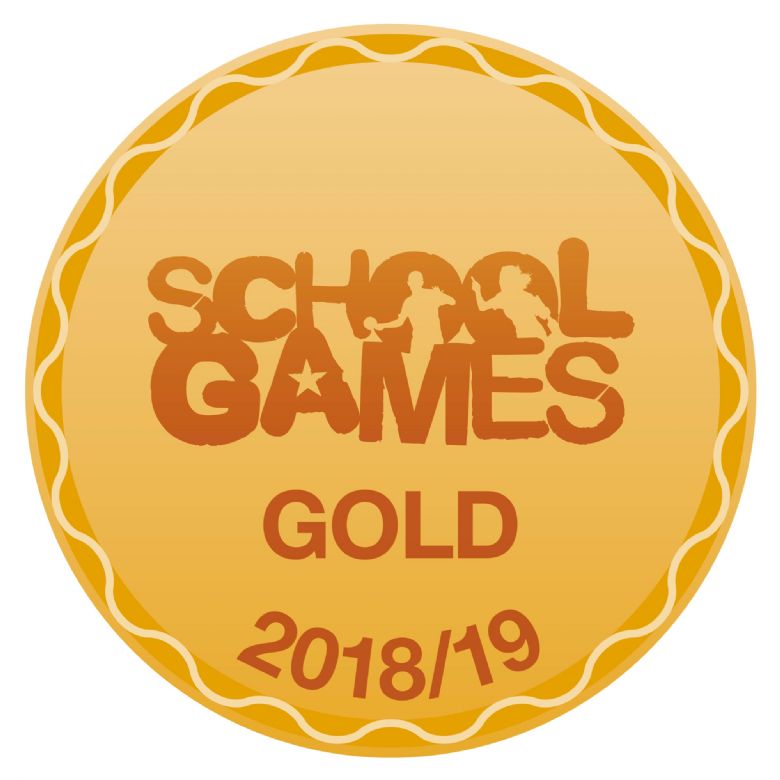 Year 6 Orienteering
On Friday, 24 year 6 children travelled with Miss St Hilaire to the Olympic Park to take part in an orienteering competition. It was a beautiful sunny day and the children worked really hard in their teams to get through the course as quickly as they could. I am pleased to report that we came 2nd school overall and one of our teams - 'The Dream Team' were the first back to the finish! Well done to all those that competed!
Year 2 Athletics
Last Monday, 8 year 2 children travelled to Vicarage School to represent Ellen Wilkinson in an athletics competition. Our young sporting stars were entered into sprint and relay races, throwing and jumping and a speed bounce. They all tried really hard and we had some pleasing results, particularly in the girls relay races where they were placed 3rd. Well done to everyone who took part!
Just a reminder that we are a Nut Free School as some of our pupils have severe nut allergies. Please take care not to send in snacks or lunches with nuts in them (including chocolate spread like Nutella). In particular, when sending in birthday treats to share, please avoid tubs of chocolates with nuts in them as we will be unable to share them out. Thank you for your co-operation with this.
Healthy Eating Week 2019
This week our children have been learning all about healthy eating across the school. Our school caterers Juniper, have presented assemblies, made healthy smoothies with a bike at lunchtimes and run workshops in some of our classes. Our own school kitchen has made delicious healthy food for the children across the school to try. Other classes have had the opportunity to do some cooking, plant seeds and the year 6 students have been designing and producing healthy snacks to sell - there were lots of compliments about this from the other children!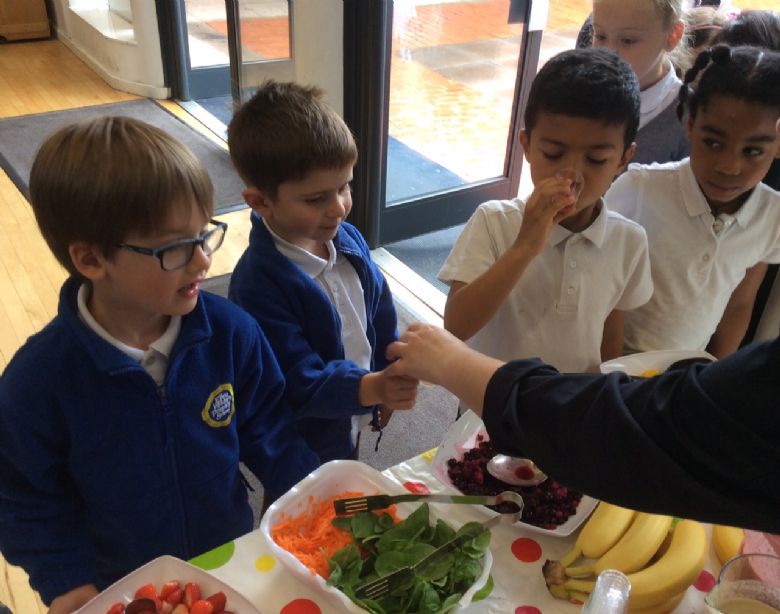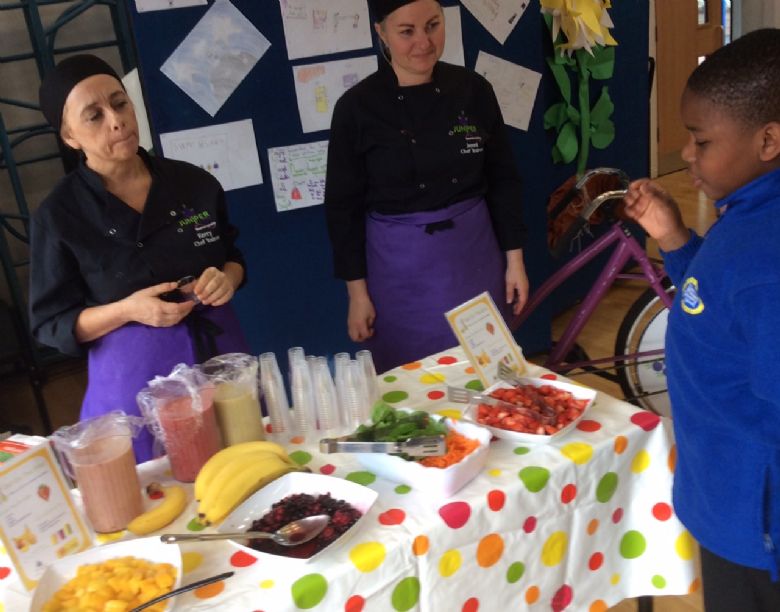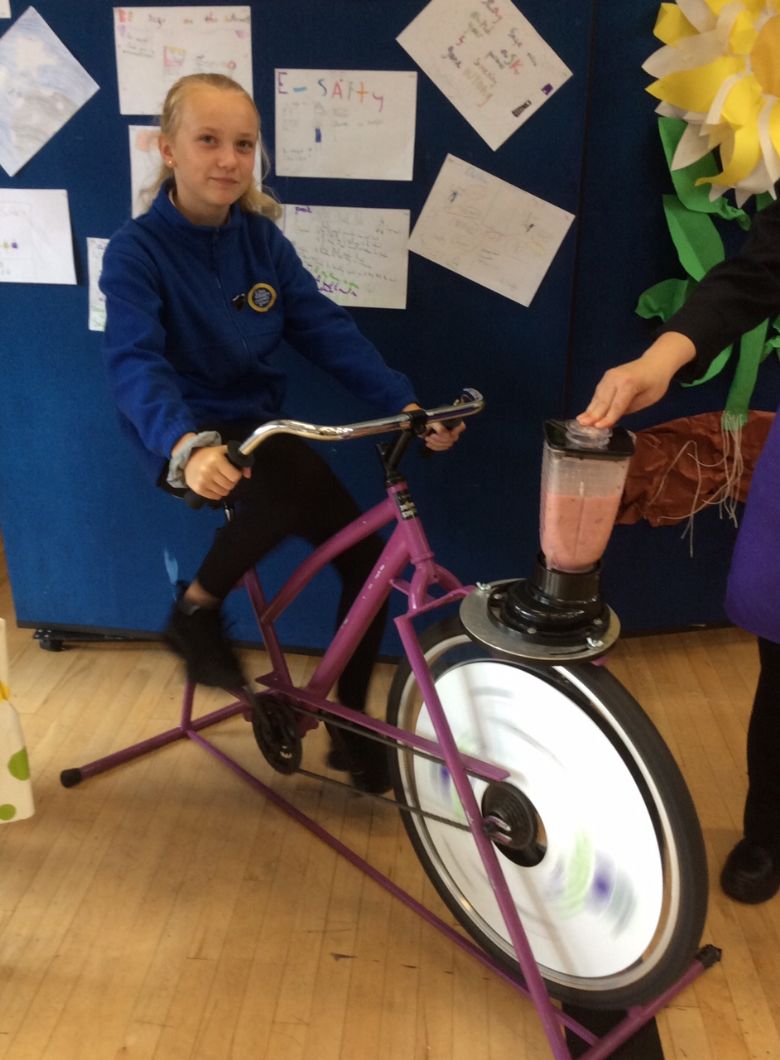 Our KS2 children have designed a healthy lunchbox that can be taken on school trips - look out for the posters that will be displayed around the school shortly.
If you would like to continue helping your child learn about healthy foods, there is an excellent food scanner app that can be downloaded onto a mobile phone or tablet from https://www.nhs.uk/change4life/ You can all have a go at scanning the foods you buy to see how healthy they are. There are also lots of ideas for healthy eating on the website with some tasty recipes.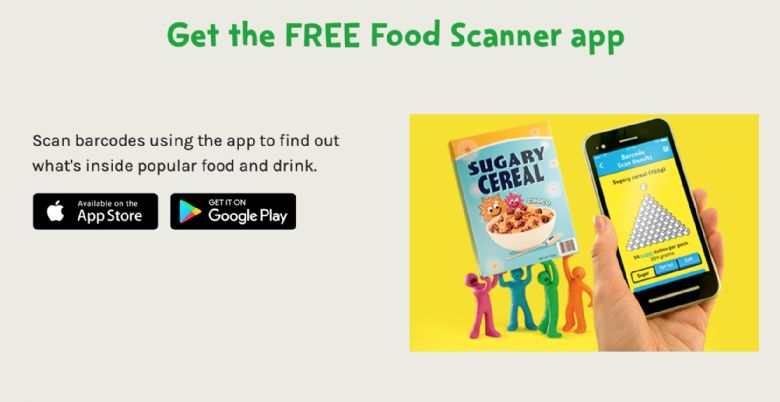 Quad Kids Competition
On Thursday, 16 children from year 5 and 6 took part in the Quad Kids athletics competition at Newham Leisure centre. The children all did a sprint, a long distance run, a throw and a jump. Our 2 teams did really well and some of our children won their events. We weren't placed in the top 3 overall but Kainas in year 5 won a bronze award for his 4 event points total and Philemon in year 6 won a silver award. Our children once again represented our school excellently. Well done to everyone who competed.
Tri golf
Last week 8 year 4 children went to Newham Leisure Centre to compete in a golf challenge competition. The children did really well and the results were very close. We missed out on 1st place by just 1 point to finish joint 2nd overall. The children were great role models and fantastic representatives of Ellen Wilkinson. Well done to those who took part - we may have some Tiger Woods of the future here at EWPS!
Sports Leader Training
On Monday, our year 5 sports leaders had some training with our sports partners from Cumberland. They used these skills to run some inter class multi-skills competitions on Tuesday with our year 1, 2 and 3 children. Everyone had fun and the coaches at Cumberland were very complementary about our sports leaders who used their common sense and were supportive and encouraging to the younger children. Well done to all those involved and thank you to the class teachers for facilitating the event.
Change 4 Life Champions Training
Last week, some of our sports leaders attended training at Eastlea School. Our children worked with sports leaders in years 7-10 to create activities and opportunities for children in our school to stay active and keep fit.
They will be using this training to help others in the playground at break and lunch times.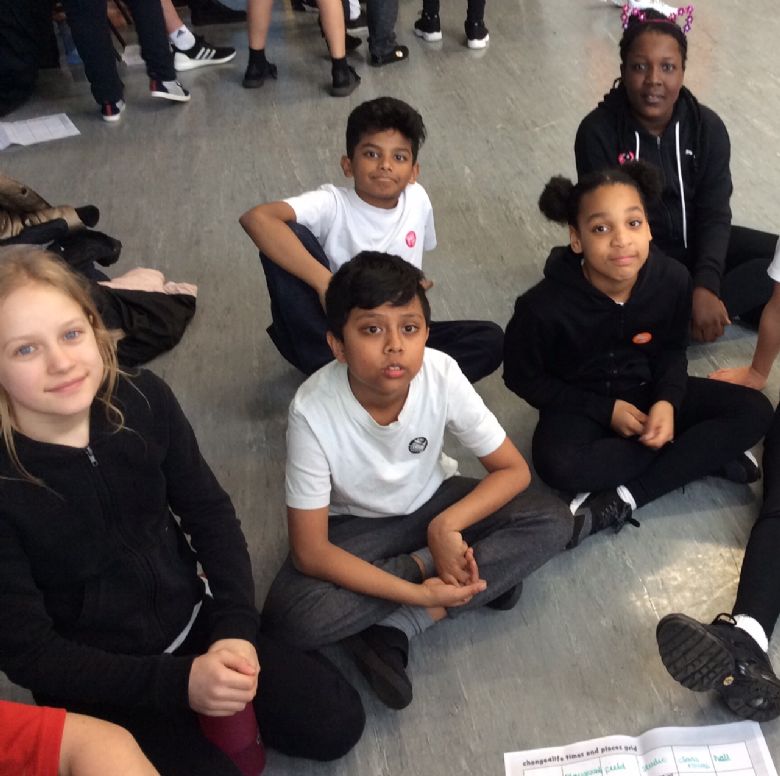 Gymnastics and Dance
Our students have been participating in additional PE sessions with experts in dance and gymnastics. Our specialist coaches from Kick London will spend a term with each class throughout this academic year. In addition, our class teachers are receiving training to enable them to deliver excellent PE lessons in the future.
Last term, years 5 and 6 did Street Dance and learnt a range of grooves. It was lovely to see the children gain confidence as they became familiar with the moves and this culminated in a performance to the school before Christmas. This term, years 1 and 4 will be learning some new routines. We look forward to seeing how they progress.
In gymnastics, the children have been learning how to use equipment safely and learn the different positions such as pike or straddle. Last term, years 1 and 2 enjoyed developing their skills. Years 3 and 5 have just started but are already displaying some excellent skills and potential talent.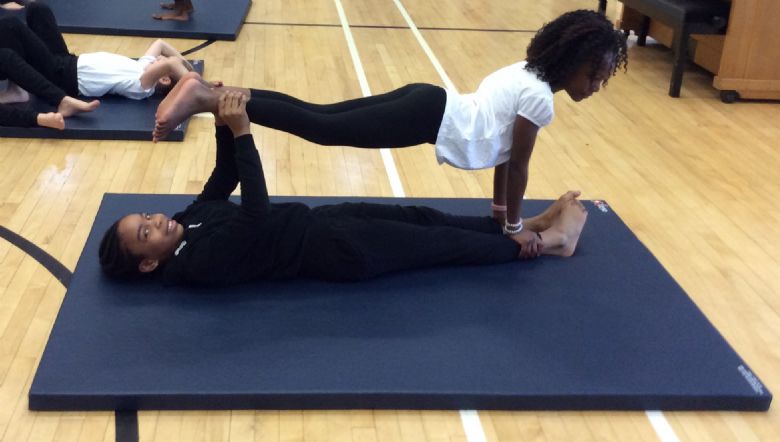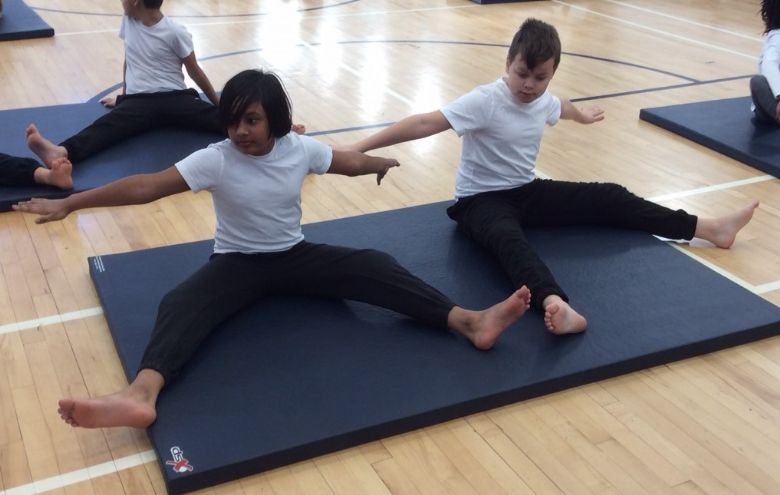 Year 1 and 2 Mini-Olympics
Last week, some of our youngest children represented their school in the Mini Olympics at the Newham Hub. They took part in a variety of circuit sports including skipping, balance and ball skills. With an international theme, we were given Ireland as our country and the children had flags to wave.
It was a great afternoon and the children did really well securing 4th place.
Well done to all who took part!
Talent Spotting
Over the last two weeks, the coaches from Cumberland Sports Partnership have been talent spotting amongst our year 5 and 6 children for the Newham Athletics Team.
They usually identify two or three children in each school but eleven of our children were picked with two borough records being broken during the testing!
The children really impressed the coaches and some have been given an invitation to join the athletics club on Monday evenings and will hopefully be selected to represent Newham in future competitions.
Well done to everyone who took part and good luck to the children who were selected.
Sports Leaders 2018-19
Our new Sports Leaders have been chosen following a tough selection process. Each child had to complete an application form and attend an interview. This year our year 5 Leaders are joined by six year 4 children helping them to support sport and games in the playground.
The Leaders had a training session last week with our Sports Partnership at Cumberland. They learnt all about their new role and what skills they will need.
They have already started their first job which is to do an audit of activities available at lunch time and shorty they will be redesigning these.
Well done to all those who were successfully appointed!
Cross Country Competition - West Ham Park
Last Thursday, 24 children from year 4, 5 and 6 travelled to West Ham Park to take park in our first competition of the academic year.
The course was challenging, with the year 4 children running 1600 metres and the year 5 and 6 children running 1800 metres.
All our children put in 100% effort and showed great resilience. We had some fantastic runs - in particular, our year 6 girls came 2nd overall, which was a fantastic achievement against some very tough competition.
A big thank you to the staff that supported them and well done to all those who took part.